Joden Girl
Baubles, Bling, and Matching Things
What's your style?  Do you like everything to match; should things work together but not be the same, or are you a wild card with no rules at all?  At Joden, we cater to each of you.  The other day, I had a chance encounter with a pair of pieces that will appeal to those who love twinning.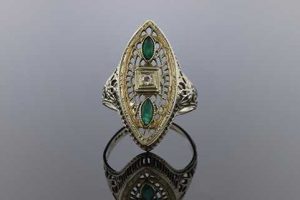 First, I discovered this little beauty…  a 14 karat white gold Art Deco gem.  Intricate filigree decorates the entire navette-shaped top and both shoulders of this ring.  The delicate wires form artful patterns that create a lacey look – it's irresistible!  A pair of marquise cut green stones flank the center section – a tiny single-cut diamond. These elements combine to perfection, creating a classic 1920's look that sells for just $350.00.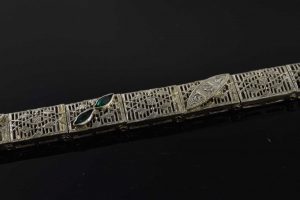 Just a few short minutes later, I uncovered this piece – a strikingly similar bracelet.  Also made from 14 karat white gold, this charmer is the epitome of elegance from end to end.  Each of the eighteen links features a sophisticated arrangement of thirteen parallel wires overlaid with arching lines and small leaves.  Mimicking the overall structure of the ring are a trio of navette shapes, one in the center and then two others.  Each of the them are set with three single-cut diamonds.  This bracelet also features four small marquise cut green stones, just like the ring.  Selling for $980, it's a steal of a deal.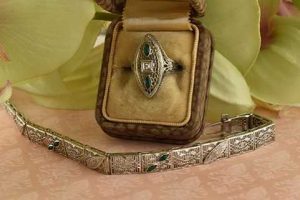 Shown together, they complement each other with ease.  Art Deco is undeniably the most popular period in vintage jewelry.  It can be challenging to find pieces in excellent condition that are also affordable.  To stumble upon a pair that match is nearly impossible – these won't last long.  To make one or both of them yours, visit our Facebook store.
As always, like us on Facebook and follow us on Instagram.  
"You can go to a museum and look, or come to us and touch."
Written by Carrie Martin
Photos by Dana Jerpe