Joden Girl
Baubles, Bling, and A Collector's Things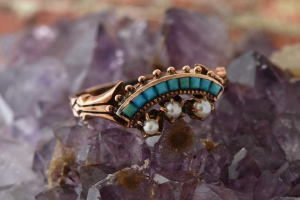 I'm enchanted by this darling little ring.  Made during the Late Victorian Period (also known as the Aesthetic Period, 1890-1901), it reminds me of a tiny crown.  Popular themes in the 1890's included bows, clovers, crescents, stars, hearts, and crowns. 
Victoria mourned her husband until her death in 1901, however, her subjects had tired of the brooding decorum of the Mid-Victorian Period.  By 1885, they kicked up their heels and ushered in the thriving industry of the era.  Women joined the workforce and rejoiced in newfound freedoms like tennis and bicycling.  As a result of this active lifestyle, women's jewelry became smaller and lighter – rings were quite delicate.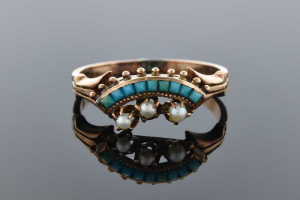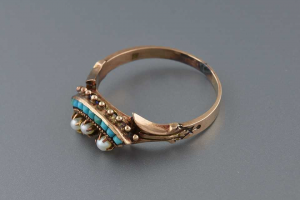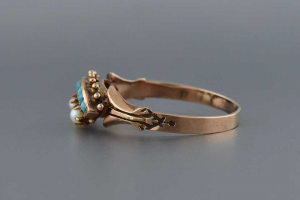 This one is no exception.  Made from 9 karat rose gold (made by using copper as an alloy), the main feature of the ring is an arch of nine square cabochon turquoise.  Soldered across the top of the arch are nine gold beads, and three pearls sit beneath it.  The band is dainty with small engraved accents.  Simply charming.
I would wear it as a right-hand ring – most likely on my ring or middle finger.  Although, it would also make a perfect non-traditional engagement ring.  Modestly priced at $600, this is one antique that won't break the bank. 
Go to our site and look, then come to Joden and touch.
Written by Carrie Martin
Photos by Shelly Isacco