Joden Girl
Baubles, Bling, and Romantic Things
It's already the second Friday in January…  the month is flying by.  Temperatures have dropped below freezing; for the first time, it actually feels like winter.  Days like this make me want to snuggle back down under the covers and stay in bed all day!  
What better way to warm up the day than with a bit of high karat gold?  This beautiful Art Nouveau bracelet is a ray of sunshine on an otherwise dreary morning.  The piece appears quite simple at first glance, however, close inspection reveals the true beauty in each golden link.  Made at the end of the 19th century, this bracelet features a trio of hearts made in classic Repoussé style (three dimensional design work that is achieved by raising the gold from the back side).  It creates a gorgeous high relief look.  Two rows of interlocking rings pass through the center of the largest heart.  Every loop has been handcrafted, with an outer and an inner ring, providing the strength needed to wear this bracelet every day.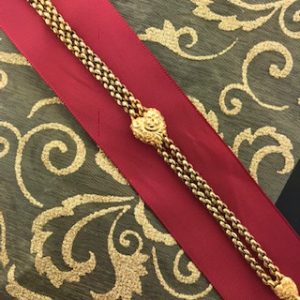 This second pictures shows the bracelet stretched out to it's full glory – just the way it would look on the wrist.  It's available in our showroom now, priced at $1,900.00 – just in time for Valentine's Day! 
"You can go to a museum and look, or come to Joden and touch."
Written by Carrie Martin
Photos by Dana Jerpe