Joden Girl
Baubles, Bling and Shapely Things
The years from 1820-1900 are known as the Romantic Era…  this time frame coincides with and almost completely overlaps the Victorian period (1837-1901).  The royal love story of Victoria and Albert is a well-known and beloved part of British history.  Their love influenced the theme and style of the jewelry that she wore as well as the jewelry worn by her subjects and the rest of the world.  
The jewelry of the era was rich with symbolism and sentimentality.  Recognized as the shape of love, the heart has been a favored emblem since the 13th century, however, this curvaceous silhouette reigned supreme during the Romantic Era.  This combination pendant/brooch from the mid-1860's is no exception.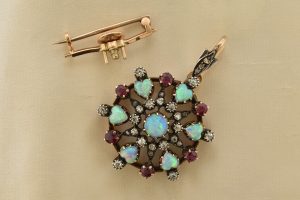 Not much larger than a quarter, this beauty was handmade from a 14 karat yellow gold base and a silver top.  It centers on one round opal that glows with turquoise blue and green fire.  The underlying structure forms a six-pointed star with a bright pink ruby at each tip.  These vibrant stones have a total weight of approximately 1.45 carats.  Nestled between each ruby is a superbly cut heart-shaped opal.  These six stones are alive with the same fire as the center.  Crowning each heart is a singular rose cut diamond while an additional eighteen rose-cuts encircle the middle and decorate the bail.  With a combined weight of 1.20 carats, these primitively cut diamonds sparkle and shine.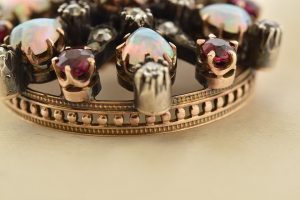 Although superstition had shrouded opals for hundreds of years, Victoria was undeterred.  She shunned the rumors of bad luck that followed this fragile gem, collecting multiple opal pieces.  Her unwavering favor helped to eradicate the bad reputation of the opal and reestablished it's former popularity.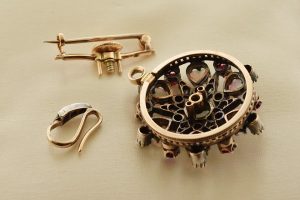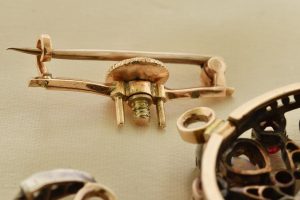 The true brilliance of this piece goes beyond beauty…  it's pure engineering genius.  Comprised of four distinct parts, it converts from a pendant to a brooch with ease.  Pictured here, you can see the threaded mechanism that connects the pin stem and the uniquely shaped bail that fastens to a hinged ring at the top of the jewel itself.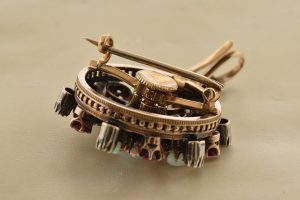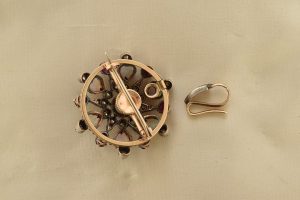 Every element performs faultlessly, even after more than 150 years.  Antique jewelry was often multipurpose, giving additional opportunities to enjoy each gem.  If you love Victorian jewelry, have a heart (or six) with this lovely piece for just $3,750.00.
"You can go to a museum and look, or come to us and touch."
Written by Carrie Martin
Photos by Dana Jerpe