Joden Girl
Baubles and Bling with Unbelievable Pricing
It's been a minute since we had a featured "Pick of the Week".  In honor of July 4th, Dana and I decided to bring back this special edition of our blog with a real BANG!  For our new readers, the Pick of the Week is an exclusive issue of the blog where we offer one of our favorite pieces at an irresistible price.  
With more than 287 items on our site, it's easy to see how something might get overlooked.  While each and every gem and jewel on the Joden site is hand-selected, some are bound to attract more attention than others.  This week's highlighted selection is a great example.  
Crafted by Tacori, one of the most sought after diamond ring designers in the country, this platinum beauty speaks with quiet elegance.  The head of the ring stands tall and proud on the high-polished band.  Flaring out gracefully, the center hold a bright 1.76 carat princess cut diamond.  With a color grade of F-G and a clarity grade of VVS2-VS1, this diamond is dazzles within the delicate halo than encompasses it.  Thirty-six round brilliant diamonds form a perfect square around the center stone with an additional .25 carat of sparkle.  
Certified by the International Gemological Institute of America, this ring has been valued at $25,615.00…  shown here: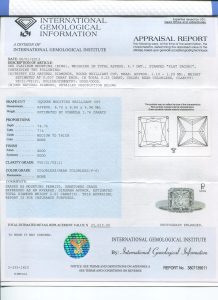 Significantly less than the appraised value, we have had it listed for $20,000.00 – a great price, no doubt.  As promised, we wanted to celebrate the holiday with a real bang.  For a limited time only, this ring is specially priced at just $14,750.00!  That's over ten thousand dollars less than the appraised value!  If you or someone you know has been searching for a truly special ring – this is it.  Don't hesitate – this steal of a deal will not last long.  
"You can go to a museum and look, or come to us and touch."
Written by Carrie Martin
Photos by Dana Jerpe