Joden Girl
Baubles and Bling with Unbelievable Pricing
There are two things that a girl just can't resist…  a great pair of earrings and a good sale!  A little bit of bling on the earlobe is like the icing on a cake.  They are the accessory that elevates an outfit to the next level.  There are millions of possibilities and you can never have too many pair.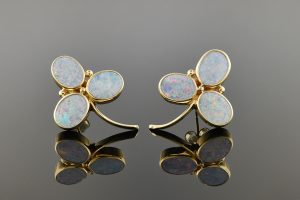 Made of 14 karat yellow gold, these three-leaf clover earrings have been on our website for months.  They didn't sell.  BUT…  they were non-pierced, like so many other earrings in our estate department.  Previously, our thought process was that we would convert each pair to pierced as they sold.  However, we discovered that NONE of them were selling.  Customers don't want to wait.  Instant gratification is key.  When someone wants to buy themselves a new pair of earrings, they want them today.  Right now.  
In January, we added a second bench jeweler to our staff, Debbie Miles.  With more than thirty years of experience, she came highly recommended and has been a welcome addition to the Joden team.  When she isn't doing customer repairs or custom work, she is able to churn out several of these smaller stock jobs, like converting earrings from clip-ons to pierced… one pair at a time.  Now, with newly soldered posts and backs, these opal clovers are ready to go.  You can wear them with the stems dropping below your lobe or flip them over, allowing the stem to climb up your ear.  Either way, these are a fantastic pair of staple earrings,  They offer pops of color in the opals but still blend well with any outfit.  Dress them up or wear them with your favorite jeans and hoodie.  You just can go wrong.  They are indeed a great pair of earrings.
You may remember that I mentioned two irresistible things…  these great earrings AND a good sale.  Now properly converted and oh-so-wearable, we have given these gems a price reduction.  Previously on our site for $600, they are now available at the unbelievable price of just $480.00.  Hop on over to our site and see for yourself.  You know you can't resist!
"You can go to a museum and look, or come to us and touch."
Written by Carrie Martin
Photos by Dana Jerpe and Shelly Isacco