Joden Girl
Baubles and Bling with Unbelievable Pricing
We introduced these beauties about three years ago…  crafted from 14 karat gold in the mid-1900's, these earrings were originally made for a baby.  Unique features such as short threaded posts and safety backs were a clear signal that these petite jewels were meant to worn by an infant or toddler.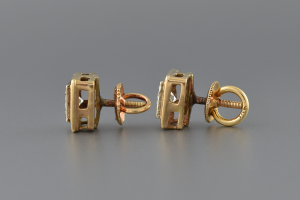 As sweet as they were, there were a couple minute details that bugged us.  Here are some before pictures.  Do you see what we saw?
The color of the gold didn't match…  one earring was a touch more rosy than the other.  Plus, those posts were SO short!  We weighed the options:
Was it better to keep them original and wait for that one perfect customer?
Or was it better to switch the posts and polish the earrings so that they matched?
Dana and I made an executive decision and chose option two.  Check out the subtle transformation…
By switching to standard length friction posts and backs, these beauties can now be worn by anyone.  With thirty years of expertise, our in-house jeweler applied a very light polish and brought the earrings back to their original matched finish.  A couple small tweaks have taken these vintage gems from a "hard sale" to simple and effortless.  
Two round diamonds are nestled within square milgrain-edged borders. With a combined weight of .40 carat, these diamonds are further enhanced with subtle engraved patterns on the surrounding gold margins.  With more to offer than typical diamond stud earrings, these sweet gems have us completely enchanted.  
We revamped the pricing as well.  Previously listed for $1,100.00, we are now offering them for just $775.00!  Click the photos to check them out on our site.  Vintage diamond earrings are tough to find – don't let these ones pass you by.  Nab them while you can!
"You can go to a museum and look or you can come to us and touch."
Written by Carrie Martin
Photos by Dana Jerpe