Joden Girl
Baubles and Bling with Unbelievable Pricing
Imitation is the sincerest form of flattery.  The revival of styles, techniques, colors and trends in jewelry has been going on for centuries.  The term reproduction often comes with a negative connotation, however, when it's done right – the recreation of a particular design is not only complimentary but also incredibly beautiful.  
Carved coral was all the rage in the 1800's – much of it was created in Italy.  These peachy pink silhouettes were showcased in rings, earrings, pendants, brooches and bracelets.  Sometimes these  pieces were simple with basic gold wire frames, but often the piece itself was every bit as lovely as the cameo.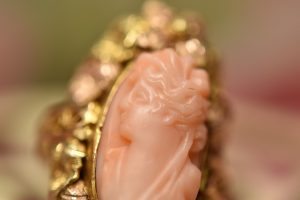 With upswept curls and a plunging neckline, the figure displayed within this ring is in excellent condition.  It's lovely – but the ring encompassing the carving is the real gem.  An intricate botanical framework of 14 karat rose and yellow gold three-dimensional leaves and flowers encircle the coral cameo.  
Beaded and coiled wire work adds additional visual appeal in the shoulders of this ring and one tiny diamond winks from the bottom of the piece.  With all the earmarks of an antique gem, this ring may have you fooled…  but this piece is not Victorian.  It was actually made much later in the 1950's. 
This multicolored gold beauty has been listed on our website for $1,150.00.  The Pick of the Week is all about revisiting some of our favorite pieces that haven't gotten the attention they deserve,  like this one.  Hop on over to our website to check out the new and unbelievable price!
"You can go to a museum and look or come to us and touch."
Written by Carrie Martin
Photos by Dana Jerpe and Shelly Isacco