Joden Girl
Baubles and Bling with Unbelievable Pricing
When we talk about periods in jewelry, we tend to concentrate on Victorian, Art Nouveau, Edwardian and Art Deco.  These eras had a huge impact on the style and trends of the time.  One period that isn't often discussed is Mid Century Modern.  From the mid-1940's to the late 1960's, there was a post war period that still carried remnants of Retro with a decidedly feminine feel. 
Retro was a reflection of World War II and the effects of it.  Rose gold reigned supreme.  It was often paired with yellow gold in bold patterns with militaristic lines.  Post-war years were a time of growth, abundance and luxury.  Jewelry from the Mid Century Modern era kept the strong lines of Retro, but softened them with elegant patterns often bejeweled with diamonds and colored stones.  Flowers, vines and leaves brought added dainty touches.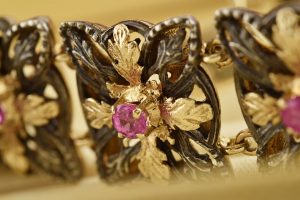 This stunning bracelet marries a sleek and stylish 18 karat yellow gold base with an intricate sterling silver top.  Each of the twelve links are identical.  Four leaves form the corners while a small round ruby marks every center.  The patina that has developed on the silver leaves is glorious, adding dimension and a just a hint of darkness.  The details are absolutely amazing, bringing this bracelet to life.  
I've always admired this beauty and I would love to see it being worn and appreciated.  I'm keeping my fingers crossed that adding it to our Pick of the Week feature will do the trick! 
Previously priced at $5,850.00 on our website, this gem has just received a MAJOR price drop.  Made of 18 karat yellow gold and sterling silver with over 2.00 carats of pretty pink rubies, this gem is now available for just $3,250.00!  Do the math…  that's a savings of $2,600.00!  Click on the link to our website and make this statement bracelet yours today.
"You can go to a museum and look or come to us and touch."
Written by Carrie Martin
Photos by Dana Jerpe and Shelly Isacco