Joden Girl
Baubles and Bling with Unbelievable Pricing
With all the turmoil that 2020 has brought to us, it warms my heart to see how much hope still exists in this world.  With each passing week, we have had more and more engagement customers!  Clients of every age are eager to begin a new life together.  It's a blessing to be a part of so much love and good will for the future.
It's tough to predict what the hottest trends will be.  Will customers crave fancy-shaped stones?  Perhaps yellow gold will surpass white gold in popularity.  Maybe non-traditional engagement rings will be the latest request.  The good news is that classic never goes out of style.  Timeless beauty is always on trend.  Tacori (one of the most popular engagment ring designers) is known for time-honored style.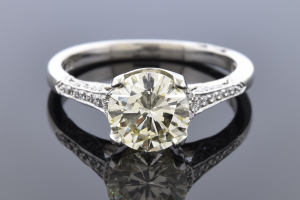 Featuring a dazzling 1.50 carat round brilliant diamond in the center, this stunner is sure to please.  Platinum is the ideal setting for this diamond, set with four prongs.  Warmth radiates from this brilliant stone.  This isn't your typical white diamond, but rather a very light yellow beauty.  This gem draws you in and warms you up from the inside out.  To highlight that golden glow, a small row of diamonds line each shoulder, adding a hint of sparkle. These diamonds are white in color, providing the perfect contrast to the center stone.
Crescent moon detailing on the edges is a trademark of Tacori, just like the tiny crescent cutout that is offset on the base of the shank.  These small yet iconic touches bring the design to life and highlight the center diamond to perfection.  
Photographs don't do this ring justice, and perhaps that's the reason it hasn't sold from our site.  In any case, this gem has become our Pick of the Week.  We have certification from the International Gemological Institute of America.  This detailed appraisal lists a retail replacement value for the ring.  
Retail Replacement Value – $11,930.00
Previous Joden Price – $8,500.00
New Unbelievable Price – $6,800.00
If you or someone you know is thinking of tying the knot, this ring is the perfect choice!  Send them to joden.com or our showroom at 144 South Broad Street in downtown Grove City. 
"Go to our site and look, then come to Joden and touch."
Written by Carrie Martin
Photos by Dana Jerpe and Shelly Isacco