Joden Girl
Baubles and Bling with Unbelievable Pricing
"Just like any relationship, it's all the little things that add up to the big picture." – Simon G.
As Simon G. so wisely noted, jewelry is often a collection of fine points…  details that collaborate and create one stunning piece.  This estate ruby ring, signed by the man himself is a prime example of that statement.  
At a glance, one would say this is a classically beautiful ring.  The initial impression reveals a traditional three stone motif centered on a deep red natural ruby.  Weighing 2.57 carats, the rich tone of this stone creates a focal point for the eye.  Flanking this beauty are a pair of perfectly matched princess cut diamonds.  These two stones have a combined weight of .35 carats.  Simple so far, yes?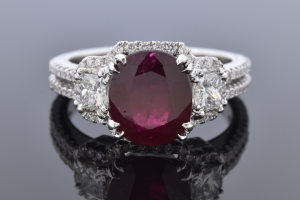 Now, let's get to those subtle details that make a Simon G. ring truly special.  Resting slighting underneath the center ruby is a delicate halo of round brilliant diamonds.  It perfectly encases the entire three-stone portion.  The shank splits into two delicate parallel lines, each hand set with sparkling diamonds as are both sides of the ring.  There are ninety round brilliant diamonds in all totaling .50 carat.  Finally, further accenting these bright white diamonds are rows of small beads, a technique that has been used since the Edwardian period called milgrain.  
Simon G. pieces are polished on every surface; the top, back, interior, and underneath glisten.  Every stone is set by hand.  A ring like this, classically traditional with a nod to modern aesthetics, has us wondering why it's still here.  It's a perfect choice for The Piece of the Week!  Previously priced at $6,000, this vision is now available for just $4,450.00.  Don't miss this unbelievable deal!
Written by Carrie Martin
Photos by Dana Jerpe and Shelly Isacco