Joden Girl
Baubles, Bling and Fancy Things
As much as I hate to admit it… fall is right around the corner.  Time seems to be unraveling at a seemingly impossible pace.  It'll be all about bonfires, cozy sweaters and fabulous accessories.  The fall forecast is calling for bold statement pieces…  stacks of gold bangles, wide bracelets, layers of chain and oversize earrings.  
"Bigger is better" promises to be the theme.  Vogue says "Get into the swing of the season with pieces that move along with you."  Fringe is everywhere, decorating the body from head to toe.  The fashion icon magazine also predicts an explosion of botanical beauty.  There are sure to be plenty of modern pieces that fit the bill; however, at Joden, we can't help but look to the past for inspiration… back to the Victorian era.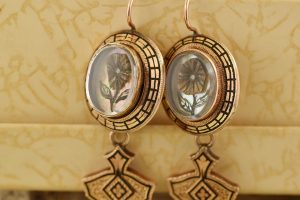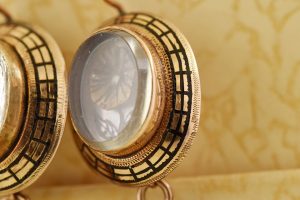 These killer earrings from the 1880's are on trend for 2022.  Made from 10 karat yellow gold, they're everything Vogue called for and more.  The top of each one features an oval frame that is fitted with a piece of clear crystal.  Like a true piece of art, beneath the glass is a miniature masterpiece; depicted on a slice of mother-of-pearl is a delicate flower.  The floret is three-dimensional, blooming from the surface with fluted elegance.  The stem and leaves are hand-painted and simplistic.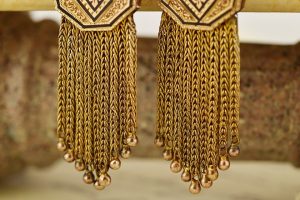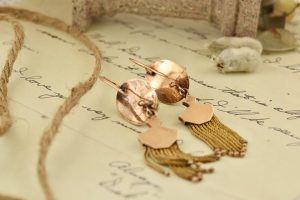 A clever removable bottom sways enchantingly.  A geometric top caps a series of graduated strands of gold.  Nine lengths of chain dangle from each ear…  every one with a tiny gold bead at the end.  Made in "day to night" style, these Victorian beauties can be worn with or without the fringed fan-like bottoms.  A hint of black enamel traces each line of the earrings, adding a hint of color to the otherwise golden jewels.  Gently swinging with every move you make, these earrings are available now for just $1,450.00.  
"You can go to a museum and look, or come to us and touch."
Written by Carrie Martin
Photos by Dana Jerpe