Joden Girl
Baubles, Bling, and Remembering Things
Every year we take a family vacation.  Most of those trips have been to a beach on the east coast – Hilton Head, the Outer Banks, and Ocean City.  My boys have been swimming in the Atlantic Ocean since they were three years old.  My favorite souvenirs are always the memories made…  long, luxurious days spent baking in the hot summer sun and warm nights walking the shoreline, chasing crabs by the glow of a flashlight and collecting shells of all shapes and sizes.  
Popular beach resorts are packed with shops – both small and large, filled to overflowing with trinkets.  There are graphic T-shirts, hats, and boogie boards.  Saltwater taffy, beach towels, and hermit crabs are there for the taking.  Vacationers are lined up, wallets open to purchase these small mementos.  Even now, in the digital age, we are anxious for more than photos to preserve our memories…  we want something to hold in our hands, a keepsake.
Victorians had the same habit.  In the middle to late 1800's, travel became easier and more affordable.  People were visiting foreign countries, exploring the world more than ever before.  And of course, they too wanted a token of remembrance, like this bracelet…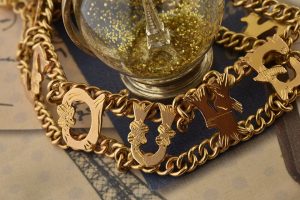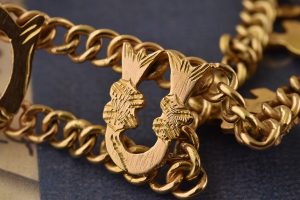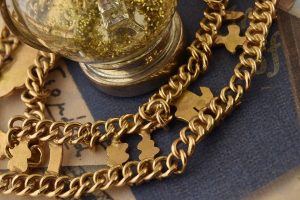 Carefully crafted from two parallel rows of interlocking 18 karat yellow curb links, this is the ultimate in vacation memorabilia.  Eight sculpted letters are evenly spaced across the length of the piece, spelling out the word "souvenir".  This French word, which most of us are familiar with, means remember or memory.  The characters are quite elaborate featuring scalloped ends and floral-like embellishments.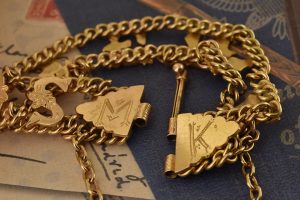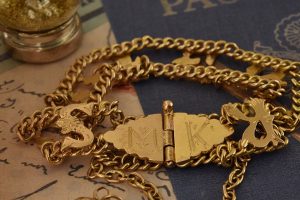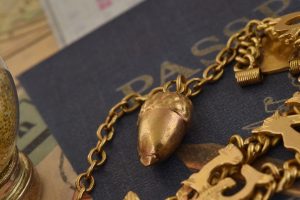 I love the clasp – it springs opens with a simple pull of the pin.  Each triangular half has been etched with an initial, an "M" and a "K".  These arguably represent the first and last name of the owner.  The final detail, and perhaps my favorite part, is a small charm that dangles from the safety chain.  It's a tiny golden acorn – a noted symbol of immortality.  Perhaps the acorn means that the wearer wished for the memories to last forever.  ♥.  Make some memories of your own with this piece for just $2,600.00.
"You can go to a museum and look, or come to Joden and touch."
Written by Carrie Martin
Photos by Dana Jerpe