Joden Girl
Baubles, Bling and Lucky Things
With a spiritual meaning like "light of God," it's no surprise that dragonflies are popping up everywhere…  these unique insects are featured on home goods like pottery and paintings.  They're a popular choice for garden ornaments and outdoor decor.  They're also a favorite theme in jewelry…  not only in modern pieces either.  These colorful beauties have been beloved by jewelers and artisans since the late 1800's.  
Their lifespan is quite short, just 7-56 days.  The dragonfly has become a symbol for those grieving the loss of a loved one.  Representing rebirth and transformation, the flying insect is a strong fast flier identified by two pair of large translucent wings, an elongated body and bulging compound eyes.  Ethereal and mystifying, the dragonfly can often be found near water.  Fishermen consider them a sign of good luck – if there are plenty of dragonflies, there will also be plenty of fish.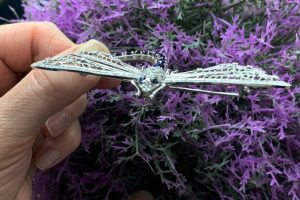 By a stroke of luck, this striking jewel landed in our estate department.  A modern creation of 18 karat white gold, he can be worn as a pin or pendant.  True to life, our dragonfly also has a pair of fore wings and a pair of hind wings.  Intricate wire work gives them an authentic transparent appearance while 114 round brilliant diamonds make them glitter from every angle.  These diamonds have a combined weight of 2.00 carats.  The large eyes and the articulated and mechanical body are made from bright blue sapphires.  These fourteen gemstones have a total weight of 8.00 carats.  
The pin stem is set at an angle, allowing it to hide cleverly behind the wide expanse of the wings.  Even when worn around the neck, the pin stem is completely hidden from view – a genius design.  As you can see by the photos, this gorgeous guy is sizable, measuring 3.75 inches from left to right and also 3.00 inches from top to bottom.  
Ancient folklore predicts that if you see a dragonfly and make a wish, it will come true.  Priced at $4,450.00 – this remarkable piece is available on our site.  Even if you haven't seen a dragonfly lately, you can turn your own wish into reality by hopping over to our site and making it yours today.
"You can go to a museum and look, or come to us and touch."
Written by Carrie Martin
Photos by Dana Jerpe