Joden Girl
Baubles, Bling, and A Collector's Things
And lo, the angel of the Lord came upon them and the glory of the Lord shone round 'bout them; and they were sore afraid.  And the angel said to them, "Fear not: for behold, I bring you good tidings of great joy which shall be to all people.  For unto you is born this day in the city of David, a savior which is Christ the Lord."   Luke 2:9-11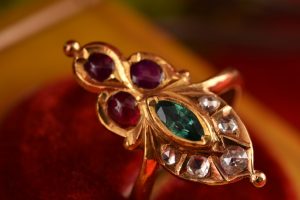 Red and green have long been the colors that represent the Christmas holiday.  These two colors are not just candy cane stripes or pretty ribbons tied around a gift.  Red represents the blood shed by Jesus during the crucifixion while green illustrates the eternal life offered by Jesus.  Perhaps this ring from Joe's Special Box can serve as a reminder of those things.
Made entirely of a rich 18 karat yellow gold, this gem centers on a fine marquise cut emerald weighing .45 carat.  Atop the center section is a trio of vivid red cabochon rubies that have a combined weight of .94 carat and finally there are five rose cut diamonds that perfectly frame the bottom curve of the ring.  I love the elongated shape of the ring, it sits beautifully on any finger.  
Every part of this ring sings in perfect harmony.  Make it yours for just $1,350.00.
Wishing you a very merry Christmas!
Written by Carrie Martin
Photos by Dana Jerpe