Joden Girl
Baubles, Bling, and A Collector's Things
I love vintage wedding bands…  and if they are eternity bands, so much the better.  Call me a romantic, but I adore the sentiment behind the eternity band.  Infinite or unending time…  the ultimate definition of marriage.  My own wedding band features a continual pattern of platinum diamond daisies with textured 18 karat yellow gold centers – check it out!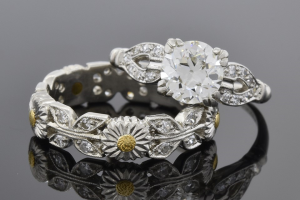 Each time I stumble across an old wedding band, I do several things.  First and foremost, I try it on.  I want to know how it fits, what it feels like, and how it looks on my hand.  Then, I go all over it with my loupe…  inside and out.  Does it have any hallmarks?  Inside engraving?  Finally, I ask myself "Is this blog worthy?"  This band is most definitely blog worthy!
This 14 karat two tone beauty from Joe's Special Box is absolutely divine.  Where to begin?  Perhaps with that scalloped edge created from a series of half-moon designs.  This utterly feminine detail enhances the lacy pattern of the center section.  Ten east/west oriented marquise shapes are carefully fitted between ten narrow parallel bars.  Each marquise has been set with a single round diamond for a combined weight of .30 carat – a little sparkle is always good!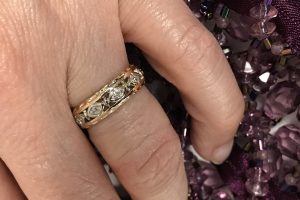 It looks great on the hand and is quite comfortable.  This little gem is perfect alone but would also work well in a stack.  It's available now on our site for just $560.00.  Make it yours now.  
"Go to our site and look, them come to us and touch."
Written by Carrie Martin
Photos by Dana Jerpe