Joden Girl
Baubles, Bling, and A Collector's Things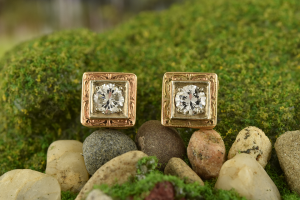 Just when you thought nothing could be sweeter than the Victorian baby rings I shared last week…  here are a precious pair of baby earrings!  Perhaps you're wondering how I know they're baby earrings?  These side views may give you a clue…
Made from 10 karat white and yellow gold in the mid 1900's, these earrings have threaded posts that are quite a bit shorter than the standard length.  In addition, the posts have been fitted with a pair of safety backs.  They're designed with a loop covering the tip of the post – preventing it from digging into a baby's delicate skin.  
I can't get enough of these mountings!  The square shape is artfully carved with scrolled lines and kite-shaped corners – the perfect setting for the pair of sparkling round brilliant diamonds winking from the center.  With a total weight of .40 carats, they are ideal for daily wear.  
These earrings could easily be converted to regular length posts, allowing them to be worn by anyone.  They're available on our site for just $1100.00.  Take some advice from George Strait and "Baby Your Baby" or baby yourself with these little beauties today!   
Written by Carrie Martin
Photos by Shelly Isacco