Joden Girl
Baubles, Bling, and A Collector's Things
A couple months ago, I shared these vintage Victorian wedding bands with you.  Remember, the one on the far right with the scalloped edge is mine?  Several of you dropped by to choose one for yourself.  So, I know you're going to love what I found in Joe's Special Box this week!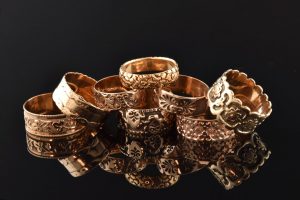 These are nearly identical to the Victorian wedding bands, except for one small detail…  their size!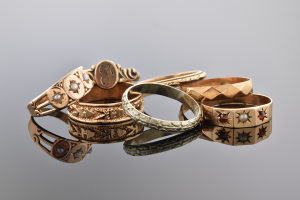 It's difficult to tell from this photo, but this stack is actually a grouping of tiny Victorian baby rings ranging from a size 1 to perhaps a size 3.  They are the perfect size for chubby baby fingers…  or midi rings for you and me!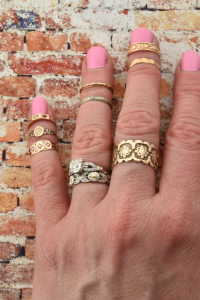 These delicate little darlings aren't often found in such excellent condition.  Joe has amassed a small collection – but he rarely sells them.  More often, they are given as gifts.  Usually worn on a gold chain, it's a beautiful keepsake, a talisman to mark the momentous journey into motherhood.  Some are decorated with seed pearl trim, some have gemstone accents, while others are simply engraved.  Each one is a treasure in itself. 
Depending upon the rarity of the ring and the value of stones contained within, the price range of these minute minis varies from $100-$500.  Wear it on a chain, or just above your first knuckle for a trendy midi ring.  Just wear one!  
Written by Carrie Martin
Photos by Shelly Isacco