Joden Girl
Baubles, Bling, and A Collector's Things
Some people are crazy over diamonds, some love sapphires.  Maybe you're a pearl fan.  For me, it's the little things.  I can't resist tiny treasures… not just small in size, but also small in price.  I adore trinkets that I can buy for myself, guilt free!  This week, we have a pair of rings that are practically perfect in every way AND won't break the bank.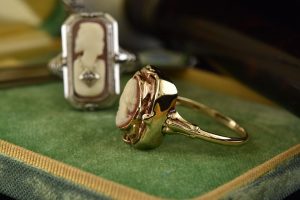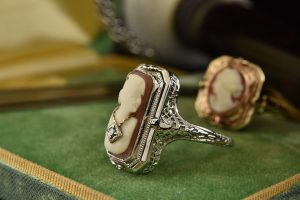 Pick your poison – white gold or yellow, each of these two rings feature a shell cameo.  Simplistic in design, the yellow gold ring resembles a picture frame.  Made from 10 karat gold, it offers an uncomplicated style that is easy to wear.  In contrast, the other ring is overflowing with fine points.  Fourteen karat white gold wire is carefully woven into an intricately beautiful setting that holds the brown and white shell cameo.  Further enhancing the band of the ring are subtle engraved patterns.  And my favorite feature is the tiny diamond necklace the adorns the neck of the figure!  Both visions of vintage delight, right?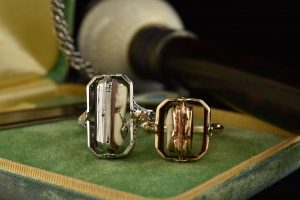 But wait!  There's more…  check out this clever element.  The center of each ring spins on a pivot pin, allowing it to flip over.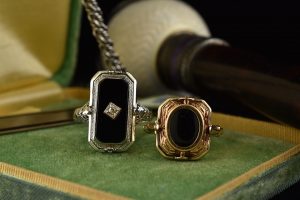 Once fully locked in place, these two rings each have a smooth black onyx stone where the seashell cameo was just a moment before.  These unique gems are often called flip rings.  These pieces have dual personalities, offering two distinct looks in just one ring.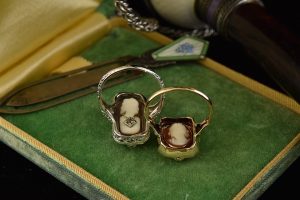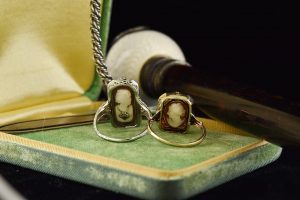 Like a game of hide-and-seek, these photos allow a unique peek from the back.  This behind the scenes perspective clearly illustrates the ability for each side to hide behind the other.  Two looks for the price of one.  Speaking of price, as promised, these beauties are affordable.  The yellow gold flip ring is available for just $375 and the white gold one sells for only $475.  The tiny treasures are indicative of the kinds of things you'll find in Joe's Special Box.  If you love them as much as we do, call the store or stop by for additional details. 
Written by Carrie Martin
Photos by Dana Jerpe