Joden Girl
Baubles, Bling, and A Collector's Things
After writing over 400 blogs (409 to be exact, but who's counting?), it can be challenging to turn up something new to share.  It's a never-ending quest for fresh styles and quirky finds.  As much as I love chatting about old-world techniques, patterns of enameling and the fine art of micro mosaic – sometimes it's a struggle.  The words won't flow – occasionally making me wonder what inspired me choose a particular piece in the first place.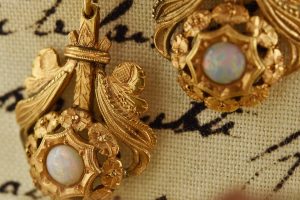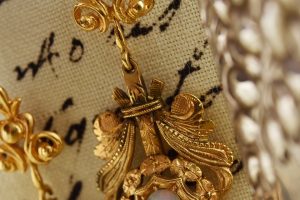 The "Joe's Special Box" blogs present yet another obstacle…  my aesthetic has to jive with someone else's.  I browse through a couple of boxes filled with pieces hand-selected by Joe, searching for a perfect little bauble that speaks to me.  Sometimes it's a gemstone that strikes my fancy, sometimes it's the most minuscule detail…  a tiny flower, a beaded milgrain edge.  And sometimes, it's the simple overwhelming beauty that makes me catch my breath.  These lovely Victorian earrings stopped me in my tracks.  An enchanting pair of flowers dangle upside down, offering an unusually charming perspective.  With small round cabochon opal centers, these flowers are ripe with detail…  fluted and beaded settings, articulated petals and engraved stems and leaves.  Fourteen karat gold from top to bottom, these earrings somehow manage to be understated and absolutely dazzling at the same time.  Priced at $1700 – they definitely do not disappoint.  
Help a girl out…  if there's something you'd like to see or if there's a piece you're dying to know more about – drop me a line (carrie@joden.com).  Inspiration comes in the most unexpected places…  can't wait to see what inspires each of you.
"You can go to a museum and look, or you can come to us and touch."
Written by Carrie Martin
Photos by Dana Jerpe