Joden Girl
Baubles, Bling, and A Collector's Things
Memorial Day is a time-honored tradition in this country.  It's a day to remember all those who died in military service to the United States.  Originally called "Decoration Day", we celebrate by placing flags and flowers on gravestones and memorials.  Veterans march in parades in local communities.  In my family, we have many veterans, including my father and my father-in-law.  We know how blessed we are that our servicemen came home.  On Monday, we will recognize and revere those who did not.  
Old Glory is a patriotic pennant of red, white and blue.  The red symbolizes hardiness and valor, the white is for purity and innocence and the blue signifies vigilance, perseverance and justice. This flag is recognized all over the world as a symbol of freedom.  This star-spangled banner has been there for every moment in the history of our nation…  from our deepest sorrows to our greatest triumphs.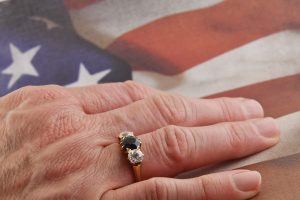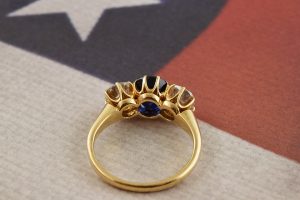 This ring from the late 1800's offers much of the same symbolism.  Made in classic three stone style, the design has one stone for the past, one for the present and one for the future.  The power of three is universal.  It's the holy trinity…  Father, Son and Holy Spirit.  In addition, sapphires are believed to represent truth, sincerity and faithfulness.  Rich blue in color, this old cut natural stone weighs approximately 1.60 carats.  It is flanked by a matched pair of Old Mine Cut diamonds.  These two stones have a combined weight of 1.25 carats.  The diamond is the chosen gem of commitment and strength. 
What piece of jewelry could be more perfect for Memorial Day than this late Victorian ring?  Comprised of blue sapphire and white diamonds, this ring stands for truth and commitment… the very same promises made by our flag and guaranteed by those who gave the ultimate sacrifice.  
Written by Carrie Martin
Photos by Dana Jerpe