Joden Girl
Baubles, Bling, and A Collector's Things
Offering lovely pale peachy-pink hues, this particular shade of coral is often referred to as angel skin.  Cut into elongated cabochon ovals that have been polished to feel as smooth as silk – these coral stones are handset into a wonderfully carved 18 karat yellow gold ring.  These rings were made in the 1870's, during the Mid-Victorian era.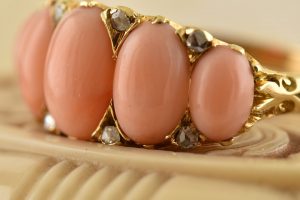 Aptly dubbed half-hoop rings or carved rings, these beauties were extremely popular.  The side detail of the ring, a series of looped prongs are the very thing that earned this style its nickname.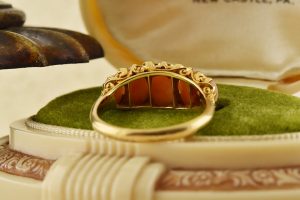 A vast variety of multi-colored gems were set within these rings, including coral.  This luscious gem is now rare, it can only be used from recycled sources.  Coral has long been a symbol of modesty, wisdom, happiness and immortality.  These stones are accented by a series of eight tiny rose cut diamonds, adding the perfect amount of sparkle.  Priced at $1,080.00 – this beauty is available in Joe's Special Box.
"You can go to a museum and look, or come to us and touch."
Written by Carrie Martin
Photos by Dana Jerpe