Joden Girl
Baubles, Bling, and A Collector's Things
If you're a March baby, you probably think of aquamarine as your birthstone…  and it is.  But did you know that there's a dark and brooding alternative to the clear blue tones of the aqua?  It's called bloodstone and it just might be the gemstone you never knew you needed!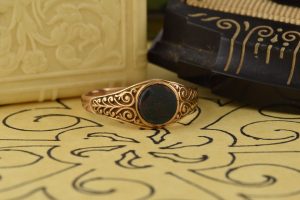 The most famous of the jasper family, legend claims that bloodstone was formed at the crucifixion of Jesus.  When the blood from his wounds fell on the green ground, it turned to stone.  With accolades like this, it's no surprise that the mottled gem is often thought to offer courage to those who give of themselves to others.  
This classic Victorian ring is made from 10 karat yellow gold and features a round flat slice of bloodstone in the center.  Bezel set within ornate scrolled patterns, this symbolic gem offers quite an array of bright red spots on the deep green background.  The carved designs are etched deep into the gold and remain crisp even after more than 150 years.  
Crafted in the 1890's, this ring is gender neutral and equally suited to any hand.  For me, it's perfect on my index or middle finger…  however, you might like it on a ring or pinky finger.  Originally found in Joe's Special Box, this ring is now available on our site for just $450.00.  Make it yours today.
Written by Carrie Martin
Photos by Dana Jerpe