Joden Girl
Baubles, Bling, and A Collector's Things
Just a few weeks ago, I shared a rare French bracelet from Joe's Special Box.  Featuring special details like fine coiled wire and dainty platinum segments set with small rose cut diamonds, I hardly expected to find a companion to it quite so soon.  
French jewelry is known for high style and superior craftsmanship.  For this reason, dealers and independent jewelers alike seek it out and often pay premium prices for these outstanding jewels.  After all, there's no substitute for fine quality.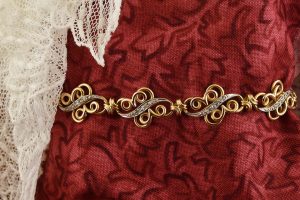 This week, in the bottom of a drawer positively overflowing with gold link bracelets – I found this little sweetheart.  The first thing to catch my eye were those twisted gold wire links.  With a double looped design, the pattern repeats ten times over.  These curvy golden beauties are connected with tiny bypass style links.  The overall appeal rests not only in what's there, but also in what isn't there…  those large openings that allow a peep of skin to show through are everything!  
Close inspection revealed the cool platinum segments waving across the center of each swirl.  Seven rose cut diamonds that graduate in size are bead-set in every one.  This was the exact detail that reminded me of the bracelet from Joe's Special Box.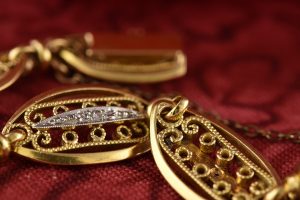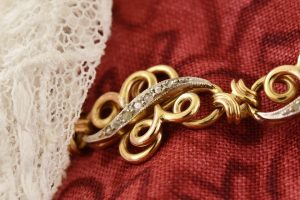 While not identical – there's no denying the similarity.  With such a strong resemblance, it led me to wonder if this new find was also French?  Sure enough, further investigation revealed the telltale sign, an eagle hallmark on the clasp.  Our inventory boasts not one but two antique French bracelets with diamond trim.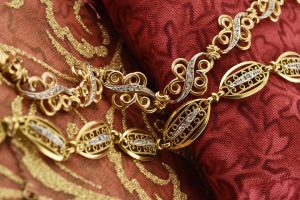 With such similar styles, it comes as no surprise that these two beauties are both priced at $3,250.00.  Both pieces are available now from the Joe's Special Box collection.  Call for additional details. 
"You can go to a museum and look or come to us and touch."
Written by Carrie Martin
Photos by Dana Jerpe