Joden Girl
Baubles, Bling, and A Collector's Things
All I can say is "Oui, Oui!"  This bracelet from Joe's Special Box is practically perfect in every way.  Measuring 7.25 inches from end to end, this beauty consists of nine identical links, one featuring a hidden clasp.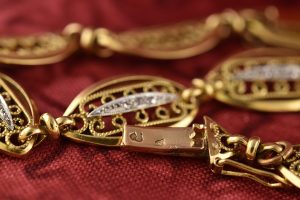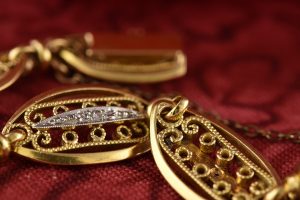 Each link is made from 18 karat yellow gold.  The outer oval-shaped ring has a high-polish shine while the interior is decorated by a delicate milgrain wire that loops around the center segment.  The very innermost section is a handmade marquise-shape that is set with one tiny rose cut diamond.  The overall look is exquisite.
Hand-stamped onto the tongue portion of the invisible clasp are two distinct markings…  An eagle and a dog.  These are the French hallmarks for 18 karat and platinum.  These symbols verify that this dainty darling is in fact, French…  made in the Edwardian period, circa 1905.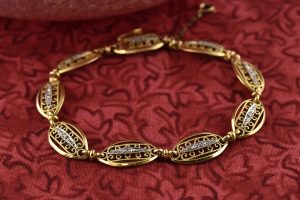 Available now for just $3,250 – this is just one example of the treasures in Joe's Special Box.  For 2021, Joe's Special Box will be making a comeback…  perhaps the greatest comeback of all time.  Stay tuned and be amazed. 
"You can go to a museum and look, or come to us and touch."
Written by Carrie Martin
Photos by Dana Jerpe