Joden Girl
Baubles, Bling, and A Collector's Things
Today we honor all the men and women who have died in the service of the United States Military.  Proud and fierce, they stood tall to protect our great country…  the land of the free, the home of the brave.  From sea to shining sea, flags will be placed on gravestones and the patriotic words of our national anthem will be sung in every city and small town in America.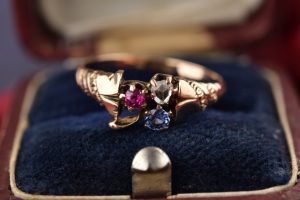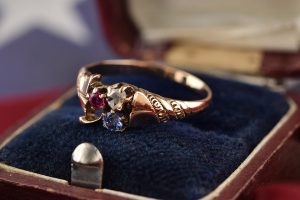 Crafted from 9 karat yellow gold in the 1860's, this tiny ring is bursting with symbolism.  The three leaf clover in the center is a widely recognized representation of three things…  faith, love and loyalty.  Many also believe the three leaves signify the Holy Trinity – Father, Son and Holy Spirit.  For me, it's both.  The two interpretations are synonymous – one meaning the very same thing as the other.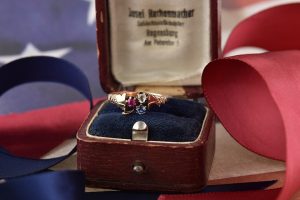 Additionally, our nation's colors are showcased using a red ruby, a white diamond, and a blue sapphire.  This trio of bold hues are also deeply rooted in symbolism:
Red – Hardiness and Valor
White – Purity and Innocence
Blue – Vigilance, Perseverance, and Justice
Every time I hear the opening notes of The Star Spangled Banner, I feel my heart swell with pride.  My skin prickles with goosebumps…  patriotism.  Being the daughter of an Army Veteran, each word resounds with me as does every aspect of this ring.  If you love it as much as I do, it's available now for just $325.00.
"And the star-spangled banner in triumph shall wave
O'er the land of the free and the home of the brave!"
Written by Carrie Martin
Photos by Dana Jerpe