Joden Girl
Baubles, Bling and  A Collector's Things
Aged to perfection.  Those words have never been more true.  This Art Deco stunner is nearly one hundred years old and is every bit as good today as it was the day it was made.  The condition of the bracelet is mint – and unbelievable.  It appears as though it was never worn.  Surely that can't be…  who could own a piece this beautiful and not wear it?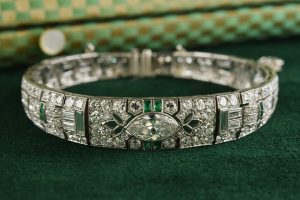 A one carat marquise diamond beckons from the center of the bracelet.  It's set in a saucy fashion… east/west oriented.  A trio of leaf-shaped openings flank the stone.  This painstakingly perfect piercing is hand done and accented with tiny beaded edges.  This delicate detail work, called milgrain, is indicative of the period.  It can be found on nearly every edge of the bracelet.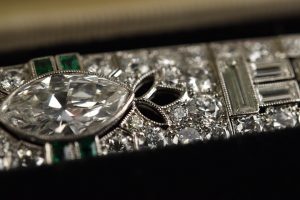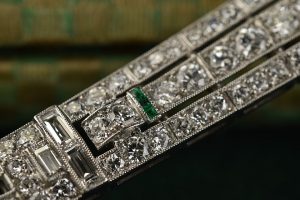 Natural emerald trim adds a bright pop of color to the resplendent array of diamonds that cover the piece from end to end.  Two hundred and two diamonds totaling over 7.50 carats to be precise.  You might think that a bracelet with 8.50 carats of diamonds would be over the top…  too fancy to wear.  It isn't.  Somehow it manages to strike the perfect balance that is both dazzling and delicate.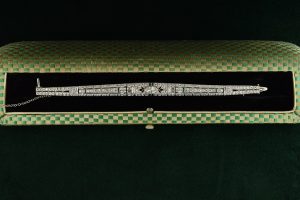 Priced at $22,500.00 – this glittering gem is the epitome of elegance.  It's luxurious and lovely… too good to pass up.  For additional details, give us a call.  Ask about the 1920's bracelet from Joe's Special Box.  You're only regret would be NOT calling. 
"You can go to a museum and look, or come to us and touch."
Written by Carrie Martin
Photos by Dana Jerpe