Joden Girl
Baubles, Bling and  A Collector's Things
"An inessential, desirable item which is expensive or difficult to obtain…" 
This is the definition of luxury in the dictionary.  For the past several months we have been entertaining stunning, one-of-a-kind jewels that are undoubtedly desirable.  Each of them could also be considered expensive (although that is a relative term) however, none are difficult to obtain.  The staff at Joden provides the absolute best in customer service.  With two graduate gemologists, two master bench jewelers and several jewelry professionals…  the experience at Joden is like no other.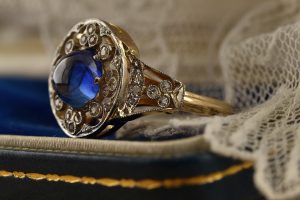 Made from a delicious combination of 14 karat yellow gold and platinum, this fine Edwardian ring is a rare find.  A lace-like web weaves a pattern of trefoils and subtly beaded edges.  The upper portion is round, mimicking the shape of the center stone…  a cerulean blue cabochon sapphire.  The silky smooth surface of the stone rises from the ring and is surrounded by tiny sparkling diamonds.  Weighing nearly 1.50 carats, this sapphire pairs equally well with the warmth of the yellow gold and the scalloped platinum edges.  Thirty-six diamonds add .60 carats of twinkling brilliance to this early 1900's ring.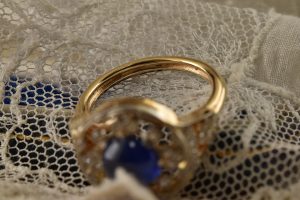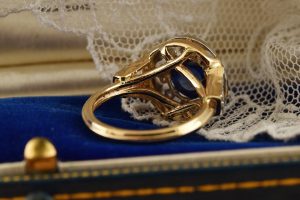 With every element singing with Edwardian elegance…  this gem is available for $4,500.00.  If it strikes your fancy, come to our showroom at 144 South Broad Street, downtown Grove City.  Our staff is friendly – welcoming you to not just gaze upon this beauty but to slide it onto your finger and appreciate it for yourself.  
The jewelry at Joden is surpassed only by the quality of the people that work there.  Each of us was hand-selected by Joe.  We love what we do and enjoy every opportunity to share it with you.  For more than fifty years, our motto has held true…
"You can go to a museum and look, or you can come to us and touch."
Written by Carrie Martin
Photos by Dana Jerpe