Joden Girl
Baubles, Bling and  A Collector's Things
In 1896, Alfred Van Cleef joined forces with his father-in-law, Salomon Arpels and created one of the most iconic brands of all time.  In the 125 year history of the company, the Van Cleef & Arpels name has become synonymous with luxury jewelry, watches and perfume.  Business has never been better for the French firm.  With new modern pieces available in their signature upscale boutiques or online from their lavish site – these sumptuous statement pieces never go out of style.  In fact, vintage Van Cleef is often even more desirable than the au courant pieces.  
E-commerce giants like 1stDibs are dominating the online shopping industry, and have become a valuable resource for both retailers and collectors.  These sites often feature high-end brands, including Van Cleef & Arpels.  While Joden.com does not yet have as large an audience as 1stDibs, we are proud to offer a selection that is every bit as good and in many cases… even better.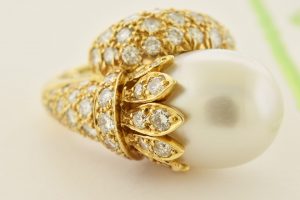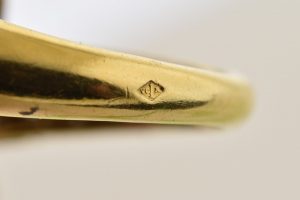 Many of our rarest pieces can be found in Joe's Special Box.  This ring is no exception.  Made entirely of 18 karat yellow gold, this beauty positively screams opulence.  Seventy-nine round brilliant diamonds are pavé set into the unique bypass style.  These stones have a combined weight of approximately 2.00 carats.  Like all Van Cleef designs, the quality of each stone is above par…  these colorless brilliants have an average clarity grade of VS1.  One end of the ring fans out with a series of nine tiny leaves.  A large pearl bud blooms from within…  measuring 12.3 mm, this ocean gem exhibits a shimmery iridescent glow.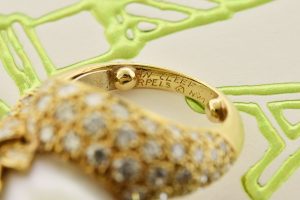 The Van Cleef signature is crisp and clear inside the shank, forever marking this ring as a small bit of indulgent extravagance.  It rises nearly an inch off the finger and yet is not overstated or excessive.  This ring is pure elegance.  It speaks of refinement and sophisticated pleasure.  Fit for a queen, this ring is available now for $7,250.00.
"You can to to a museum and look, or come to us and touch."
Written by Carrie Martin
Photos by Dana Jerpe