Joden Girl
Baubles, Bling and Spinning Rings
"I'm so dizzy, my head is spinning…"  these song lyrics are swimming through my head.  I can't resist the urge to move my hand around, to the left and the right making this clever pair of rings just spin and spin.  It's so satisfying to watch the stacked layers whirl and twirl.  It's completely hypnotic.  They're sparkly and shiny and Oh-so-fun…  but would I take the leap and add one to my jewelry box?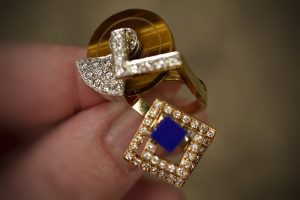 The ring on the top is crafted from 18 karat yellow gold featuring a beautiful ombré Tiger's Eye disk and round brilliant diamonds.  The visual style is reminiscent of an old school record player; a delightful wedge pavé set with twenty-six bright white diamonds that total 1.25 carats slides smoothly over the golden stone.  Superb craftsmanship and a unique design set this ring apart.  Make a bold fashion statement with this gem for just $1,450.00.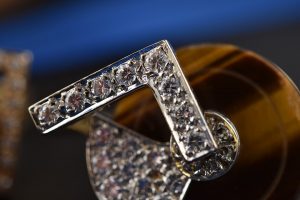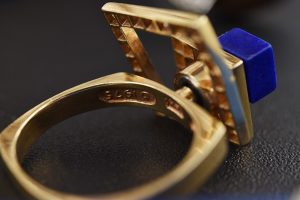 Designed and signed by Norman Teufel, the second motion ring is my favorite of the pair.  The center pin is crowned by a vivid blue cube of Lapis Lazuli and boasts an intersecting duo of swiveling squares.  1.00 carat of round brilliant diamonds add another element of interest to this already stellar piece.  Hallmarks inside the shank include the "N. Teufel" signature trademark, the "14K" mark as well as "c. 1975".  Teufel is the original creator of the Swinger Rings, each one crafted with precision engineering that is also fun to wear.  This unusual manufacturer makes nothing else…  which means they are very, VERY good at their job.  For almost fifty years, this family-owned business has been making exceptional jewelry at an affordable price.  This estate beauty is available now for just $1,380.00.
Armed with this knowledge, the question remains… "Hot?  Or not?"  Are you tempted to bring a bit of whimsy to your jewelry wardrobe?  Do you need an adult fidget spinner to get you through those Google Meets?  If you answered yes, then Joden is the place to buy it!  
"You can go to a museum and look, or come to us and touch."
Written by Carrie Martin
Photos by Dana Jerpe