Joden Girl
Baubles, Bling and Berry Things
It has been speculated that ornamental jewelry has been in existence for over 25,000 years… the discovery of a simple necklace made of fishbones in a cave in Monaco is the earliest evidence we have.  From brightly colored macaroni strung on yarn to the Crown jewels…  I can't even begin to guess just how many pieces of jewelry have been created in all that time. 
If we added up every bauble in every drawer, box, and bag from the basement to the garage to Joe's office – I am certain the number of jewels at Joden is well over 10,000.  And although I don't know the exact number of pieces, what I do know is that we have some breathtakingly beautiful things.  On the flip side, after more than fifty-two years in business, we have also accumulated a few ugly ducklings.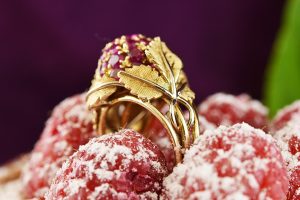 But luckily, opinions vary and no two people like exactly the same things.  One of the best parts of my job is when I am able to match the perfect customer with their dream piece of jewelry… it's especially gratifying when the piece is a bit unusual or obscure (a.k.a. challenging to sell).  These gems are what we like to call "old friends".  
In hopes of making more of these connections, I created the "Hot or Not" edition of the blog.  In the previous three publications, we debated the beauty of a fantasy cut green tourmaline ring, a couple of designer spinner rings, and a brooch by the House of Graff.  The brooch is available on our site, the tourmaline is available in the store… both spinner rings have sold.  This week, we are offering this noteworthy ring.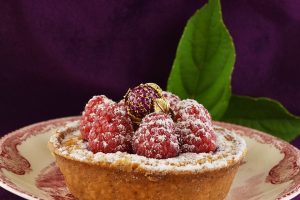 Made from two colors of 18-karat gold, this ring looks exactly like a ripe red raspberry and is showcased to perfection in this delicious tart from La Gourmandine bakery in Pittsburgh.  The fruit is bursting with forty-three round rubies that have a combined weight of 2.00 carats.  Each of the tiny eight leaves have a crisscross hand-textured surface and a white gold vein running through the center.  It's incredibly lifelike – a true feast for the senses.  You can almost smell and taste the sweetness of the berry…
It's very unique…  and certainly not mass-produced.  This is not a ring for everyone but rather something exceptional for someone with unconventional style.  Priced at just $1,500.00, it begs the question…  is this ring hot or not?  We can't wait to see what you think.  Hop on over to Instagram to cast your vote on our story!  
"You can go to a museum and look, or come to us and touch."
Written by Carrie Martin
Photos by Dana Jerpe