Joden Girl
Baubles, Bling, and Illuminated Things
From the time I was a very little girl, we watched the Macy's Thanksgiving Day parade…  favorite characters filled floats, danced along with marching bands, and even floated high above the New York skyline in the form of oversize balloons.  Every year, the parade ends the same way…  a joyful arrival of Santa Claus.  This momentous occasion officially signals the end of one holiday and the beginning of the next – Christmas.  
Only in America have we added in a couple of extra celebratory days…  Black Friday and Small Business Saturday.  Retailers across the United States open at crazy hours, offering deals on all the hottest items.  I absolutely LOVE Black Friday shopping.  My mom and I spend the day going from store to store, checking out anything and everything we see.  We will catch each other up on our lives, chat about all the bizarre things going on around us and we will laugh.  A lot.  There will be a long, leisurely lunch and eventually we will head home.  The back of the car will be filled to overflowing with gifts for everyone on our list.  But the real treasure of the day for me is the time spent with my mom.  
At Joden, we have decided to join the masses and have a little Black Friday fun!  Three diamond engagement rings are available at unbelievable prices!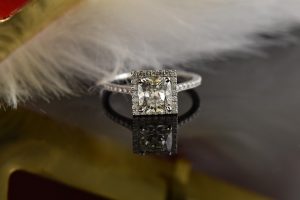 First is this gem.  Made from 18 karat white gold in a classic halo style, this ring features a cushion-cut diamond as the center stone.  This ring (and the other two) have been certified by the International Gemological Institute of America (I.G.I.)…  the center stone weighs 1.60 carats.  Surrounding it are 58 round brilliant diamonds and two square diamonds that have a combined weight of .40 carat.  That's 2.00 carats of total diamond weight!  The certificate values the ring at $12,150.00.  Today, we are offering it for $6,250.00!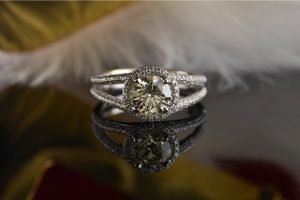 Or do you prefer a round diamond?  If you answered yes, then this is the ring for you!  This "Simon G" original ring is crafted from 18 karat white gold and contains one round brilliant diamond in the center.  This diamond weighs exactly 1.00 carat.  Micro pavé set into the halo and split shank design is an additional 152 round diamonds that have a combined weight of .62 carat.  This beauty has been valued at $7,720.00…  but you can take it home for just $3,420.00.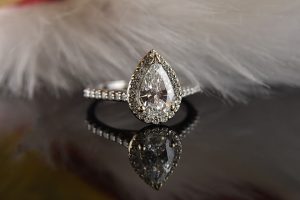 Finally, my favorite of the three…  a glorious pear-brilliant diamond nestled in an 18 karat white gold ring.  This diamond weighs 1.04 carats and is a real showstopper.  The color grade of the center stone is E-F, and the clarity grade is VS2-SI1.  Tiny round diamond trim envelopes the pear shape (34 stones to be exact) for an added .37 carats of bling.  Fancy shapes have surged in popularity this year, and when you look at this beauty, it's easy to see why.  Appraised for $12,035.00 – available now for only $6,880!  
So, today, on the busiest shopping day of the year (while I am at shopping til I drop) – be sure to stop by Joden and check these bodacious bargains out for yourself.  Financing is available!  And drop in on Small Business Saturday as well…  the first 50 customers will receive a complimentary coffee cup.  We'll even fill it up for you! 
"You can go to the mall and look, or come to Joden and save BIG!"
Written by Carrie Martin
Photos by Dana Jerpe