Joden Girl
Baubles, Bling, and Twinning Things
One of my most beloved aspects of vintage jewelry is the symbolism.  Nearly everything had a deeper meaning – including the deceptively simple buckle ring.  This stylistically classic design has been a popular choice for centuries, dating back as far as the early 1800's.  
Popularity of this significant piece of jewelry surged when Queen Victorian began wearing her own buckle ring.  Apparently, Victoria wore the ring to represent her membership in the Order of the Garter.  This organization was founded in 1348 and still exists today.  It is the most senior Order of Chivalry in Britain and the members are most often recognized for their public service.  This is the symbol of the order…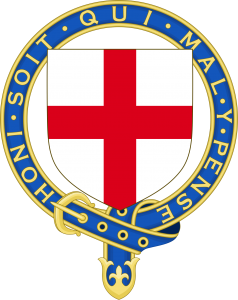 As you can see, the primary focus is a vibrant blue belt, solidly clasped through a golden buckle…  hence, Victoria's public wearing of a buckle ring.  In typical Victorian fashion, there were multiple reasons to sport one of these iconic rings.  The belt and buckle has long been indicative of the binding love between the giver and receiver of the ring.  There is a continuous loop formed when the belt threads through the buckle – it's eternal.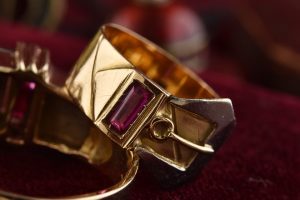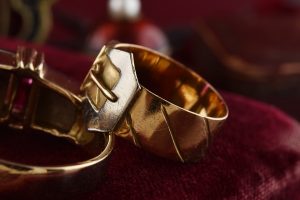 Often the pair wearing the rings were said to be as well matched as a belt and it's buckle.  This week, we have a pair of these beauties.  Ours date to the Retro period – the 1940's.  This era is remembered as being a fusion of futuristic vision with the sentimentality of previous periods.  Both pieces feature a striking combination of a white gold buckle mated with a yellow gold belt, although the ladies band is 18 karat while the mens is 14 karat.  Further similarities include vivid ruby trim and a high polish finish.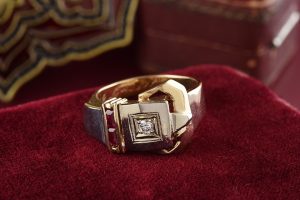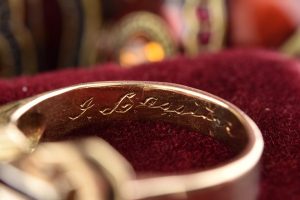 Sometimes, these rings also took the form of mourning jewelry, or more accurately, remembrance jewelry.  After the death of a loved one, often the remaining family would wear a buckle ring to symbolize the never-ending connection to the deceased.  The unbroken circle of the band provided a much needed visual reminder of the enduring memory.  
It's impossible to say whether these two rings were worn by a husband and wife or by complete strangers.  And it doesn't matter who will wear them now…  what really matters is what they will represent – an unbreakable bond of eternal love.  Make one or both of them yours now.  The ladies buckle ring is available for just $675, and the mens for $1,350.
"You can go to a museum and look, or come to Joden and touch."
Written by Carrie Martin
Photos by Dana Jerpe