Joden Girl
Baubles, Bling and the Finer Things
After months of staying home, and for many of us – working from home with nothing to do but migrate from the kitchen to the family room… we are finally able to go out and enjoy dinner in a restaurant.  This simple pleasure that we once took for granted now feels luxurious.  It just might get us out of our pajama pants and into something a bit more special (real pants…  with a belt?  What?!?)  
If you're making weekend plans that include leaving the house and perhaps even a pair of heels…  then this piece is a MUST HAVE.  It's Edwardian finery at it's absolute best with high-end craftsmanship that is simply impossible to find in modern jewelry.  
The overall shape resembles a modified heart with softly rounded edges and an exaggerated point at the bottom.  Made entirely of platinum, this pendant features lacy details that create an opulent setting.  Tiny curved wires form the base upon which the vines and leaves are set.  There are seventy-three individual rose cut diamonds nestled into each delicate curl giving this ethereal masterpiece a decidedly botanical appeal.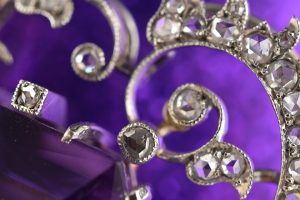 A bold center stone presents an unexpected surprise.  Most Edwardian jewelry is subtle and understated, commonly set with white diamonds and pearls for a monochromatic look.  With rich purple hues and six sharp angles, this hexagonal amethyst is exactly what you need in your life.  This early 20th century beauty combines the best of both worlds, offering antique details and vibrant hues.  The color of royalty, amethyst is the birthstone for February.  But let's not limit it  – this gem is ideal for anyone audacious enough to wear it!
If you've visited our showroom in downtown Grove City, you may have spied this stunner in our Art Deco case.  It's a wonderful crossover piece.  Call it late Edwardian or early Art Deco.  We prefer that you call it yours!  It pairs perfectly with virtually any ensemble – casual or fancy.  Versatility is key in today's world – wear this on a short chain at the base of your throat or style it on a long chain.  The intense color of the amethyst would make this an ideal addition to your favorite neck mess.  The possibilities are as endless as your imagination.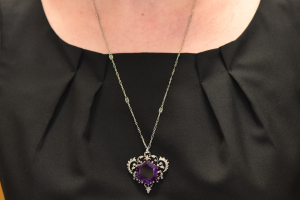 Originally priced at $7,650.00 – this plush purple pendant is now enjoying a $2000 price drop! 
Take it home now for just $5,650.00!
"You can go to a museum and look, or come to us and touch."
Written by Carrie Martin
Photos by Dana Jerpe and Shelly Isacco