Joden Girl
Baubles, Bling and Little Things
If you're searching for Easter basket stuffers, Joden is just the place!  We have a unique collection of antique rings that are perfect picks.  Each of these Victorian gems is made from 10 karat yellow gold featuring pops of color and seed pearl trim.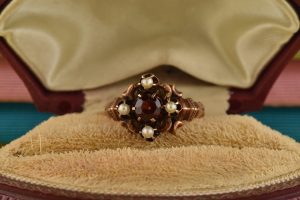 First up is this little darling.  Ten karat rosy gold is the ideal complement to the round garnet center.  Four tiny pearls situated at twelve, three, six and nine o'clock brighten up the deep red gem.  This ring is a size 5.5 and is available now for just $240.00.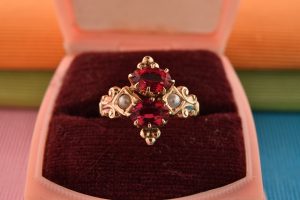 Next is a lovely two-stone jewel.  Stacked one on top of the other are a matched pair of east/west set red glass stones.  Although these bright gems are not genuine, they are authentic and original to the ring.  Rosy gold swirls accent the band of the ring.  One little pearl is nestled down into each shoulder.  This piece is a size 3.75 and is also priced at $240.00.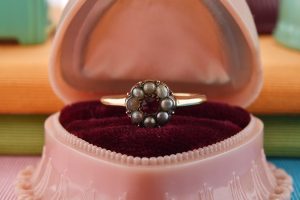 A delicate halo of eight seed pearls encircle a small round center in this Victorian ring.  The center stone glistens with hues of red and orange.  We suspect that it's a garnet and glass doublet. Placed in the heart of the ring, it is utterly charming.  Priced at $240.00, this ring is a size 6.75.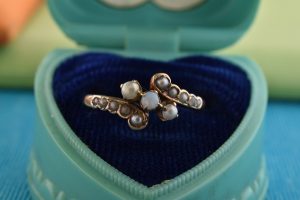 I love the lines of this antique bypass-style ring.  The three-stone center section features one small round opal and a pair of tiny pearls.  The outer arms of the shank arch past the center in opposing directions.  Scalloped edges and seed pearl trim add charm to this Victorian ring.  It's a size seven and is available now for just $240.00.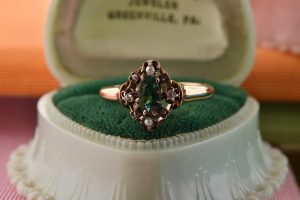 Fabulous number five features a bright green center.  Like so many other gems and jewels made during the late 1800's, this vibrant verdant stone is not genuine, but is definitely original to the ring.  An alternating pattern of rose cut diamonds and seed pearls form a halo around the center, adding a hint of color and a bit of sparkle.  Sized at an 8, this ring is available now for $280.00.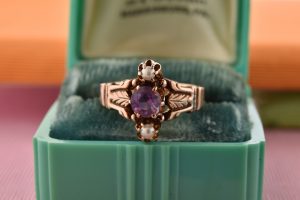 Although it's tough to pick a favorite, this just might be mine.  I'm crazy for the feathered patterns engraved into the split shank design.  A vertical stack is formed in the center of the ring…  pearl, amethyst, and pearl.  The amethyst is a lovely lavender color that pairs perfectly with the soft ivory tone of the pearls.  Priced at $400, this ring is a size 5.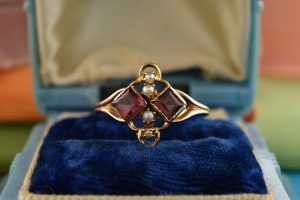 Last is this sweet little ring.  Made with a pair of square cut tourmaline set side by side in the center and two little pearls to brighten it up, this ring is a bargain.  While certainly not in mint condition, it still has plenty of gentle wear left.  Not meant for every day, it is being sold as is for just $150.  It's a size 6.75.  
Like brightly colored eggs in a basket, these antique gems are priced to sell.  Check them out all together…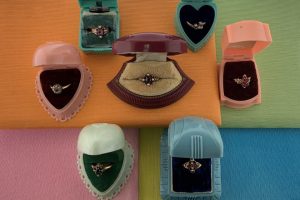 Give us a call (724) 458-6710.  Send us a text (724) 699-1932.  Message us from Facebook or Instagram.  Or stop by our store to choose to try on and admire them all!
Written by Carrie Martin
Photos by Dana Jerpe