Joden Girl
Baubles, Bling and Sapphire Things
With September wrapping up, we would be remiss if we didn't showcase a fantastic sapphire piece.  Birthstones have existed in some form or another since biblical times, although the official American list wasn't established until 1912.  The National Association of Jewelers met and created the list that we still use to this day with a couple minor additions along the way. 
Originally believed to provide the wearer with protective powers, birthstones are often used to create personalized jewelry and multi-colored family jewelry.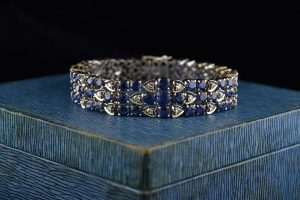 Even though I am a May baby, sapphire has always been my favorite gemstone.  It forms naturally in every color of the rainbow, except red – although blue sapphires are the most well known.  It's a durable stone, able to worn every day.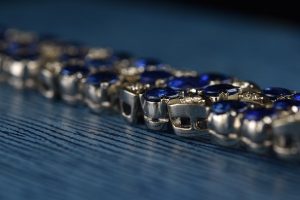 We recently acquired this unique piece.  Made entirely of silver from end to end, this vintage bracelet features an alternating pattern of sapphires and diamonds.  The sapphires are round  in shape with a lovely cornflower blue hue.  Each one is held with four individual prongs.  Ninety stones total 12.00 carats of well-matched beauty.  Interspersed with the sapphires are forty-five round brilliant diamonds.  Every diamond is nestled within an east-west oriented heart-shaped setting that radiates out from the center sapphire.  The diamonds have a combined weight of 2.50 carats.  
This Mid Century gem is quite impressive on the wrist.  Measuring half an inch in width and 7.25 inches in length, this bracelet shimmers and shines from every angle.  Originally priced at $4500 – we are offering it now at an unbelievable blow-out deal.  With a 50% savings, this bold statement bracelet is available now for just $2,250.00!  Not yet on our site, give us a call or stop by to make it yours today!
"You can go to a museum and look, or come to us and touch."
Written by Carrie Martin
Photos by Dana Jerpe