Joden Girl
Baubles, Bling and Onyx Things
In recent years, we have noticed a strong trend of sentimentality returning to jewelry.  Customers don't simply want jewelry that's pretty…  they long for something with meaning.  The options have expanded far beyond a mother's ring with a birthstone representing each of her children or grandchildren.  Photos can be etched onto precious metals, fingerprints are engraved onto pendants and rings, you can even forever preserve the handwriting of a loved on a bracelet or charm.  The inclination has gone a step further, reviving antique mourning jewelry.  Cremation urn necklaces and memorial lockets are often requested.
This trend is hardly new.  In fact, it's a centuries old tradition.  In 1861, a great love story came to a tragic end…  Prince Albert died, leaving Victoria a grieving widow. Her bereavement was so deep, she commanded that the entire country mourn with her.  Draped in black from head to toe, even Victoria's jewelry was black.  Although the concept of mourning jewelry wasn't invented by Victoria, she definitely took it to a new level.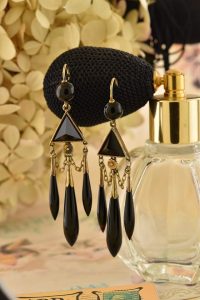 Fashion embraced death.  Mourning jewelry was the height of style during the late 1800's.  These earrings are a classic example.  Made from 14 karat yellow gold, the chandelier style is bold, dramatic and distinctly Victorian.  Beginning with a pair of kidney-shaped wires, these beauties are over two inches in length.  With multiple joints, they swing and sway with face-framing geometric glory.  
A perfectly round bead crowns a triangular piece of faceted onyx.  Coming to a crisp peak, this symmetrical shape is set with a milgrain-edged bezel.  Hanging from the base of the equilateral triangle is a trio of glossy black drops.  Each one features a smooth polished gold cap.  A delicate cable chain loops between them, adding a hint of flair to the otherwise simplistic design.  One small golden flower decorates the middle of each earring.  The various shapes dangle elegantly, with light reflecting off the surface of every high polished stone.  
Memorialize someone you love with these Victorian mourning earrings made in the 1890's… available now for just $1,150.00.
"You can go to a museum and look, or come to us and touch."
Written by Carrie Martin
Photos by Dana Jerpe