Joden Girl
Baubles, Bling, and Lucky Things
On January 20, 2017, the United States will inaugurate a new President – a Republican President.  The symbol of the Republican party has long been the elephant.  Thomas Nast published the following cartoon in Harper's Weekly magazine in 1874, forever marking the elephant as the symbol for the political party.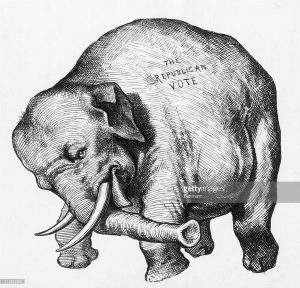 These lovable pachyderms live in large family units, learning how to take care of each other from a young age.  They develop strong friendships that have been known to last a lifetime.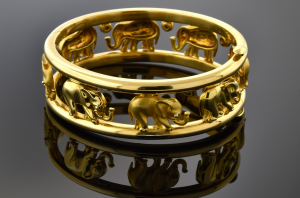 The bracelet shown above is a beautiful representation of Elephants on Parade.  Handmade in 18 karat yellow gold, featuring a row of eight elephants in both matte and high polish finish, this piece is as magnificent as the animal it personifies.  Each elephant is displayed with his trunk up – long believed to be a symbol of good luck.  It is hinged, making it easy to wear and weighs over 58 grams.  It's solid construction makes it a great candidate for daily wear.
As we forge ahead, perhaps we can take heart in the symbolism of the elephant.  They embody strength and power, and are known for caring for their young, respecting their elderly and sick, and being strong in themselves…  all qualities that make excellent leaders.
"You can go to a museum and look, or you can come to us and touch."
Written by Carrie Martin
Photos by Carla Leight