Joden Girl
Baubles, Bling and Turquoise Things
There's no question, there is definitely a lot of anticipation involved when you gift a piece of jewelry.  It begins with the presentation.  At Joden, it starts with our signature matte black bag and our name embossed in glossy gold letters.  Squeals of excitement are often elicited when a Joden bag appears!  Multiple layers of golden striped tissue are protruding from the top with an exquisitely wrapped package nestled inside. 
Victorians understood the importance of a great first impression.  Custom-fitted leather boxes were hand-crafted for each treasured piece.  Upon opening, the interiors were carefully lined with plush velvet and rich satin – hinting at the luxury ensconced within.  Original vintage boxes can fetch hundreds of dollars even with nothing inside.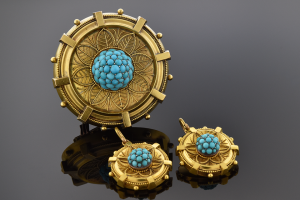 Feast you eyes upon this beauty…  an absolutely delicious Mid-Victorian demi-parure.  This 20th century treat is comprised of a matching 18 karat yellow gold brooch and earrings.  Circular in shape and three-dimensional in style, these gems are rich with unique details.  
A floral motif comes to life with an Etruscan beaded outline artfully detailing a multi-petaled blossom with a bold pavé turquoise center.  Seventy-nine bright blue stones are set edge to edge creating a unique style.  The earring itself is a miniature version of the brooch, dangling from the ear on an elegant wire.  In pristine condition, these sets are a rarity.  This one is available on our site for just $5000.00.
At Joden, we revel in the full experience…  not a single detail is missed.  Meet us on social media – our Instagram and Facebook pages showcase some of our finest offerings.  Then head on over to our stunning website, where you can browse and purchase fine pieces of antique, estate, and modern jewelry.  Next, you'll want to come into our store for unmatched customer service and an inventory that is both award-winning and unrivaled.  Let's start a relationship today.
Written by Carrie Martin
Photos by Dana Jerpe and Shelly Isacco