Joden Girl
Baubles, Bling, and Unmentionable Things
Everyone has a word or two that just makes them cringe…  whether it be a particularly colorful cuss word or something that's a bit distasteful, we all have them.  At Joden, there is one word that is especially taboo.  Can you guess what it might be?  It's a four letter word, it begins with "S," and it's not sh*t.  If you guessed "sale", you're spot on.  
Our customers often ask if we have sales, and the answer is always the same – No.  Our prices are the same on Christmas Eve as they are on any other day of the year.  There is no Valentine's Day blowout, no Christmas in July Promotion, no Black Friday deals.  The reason for that is simple…  we offer the best possible price every single day, no sale required.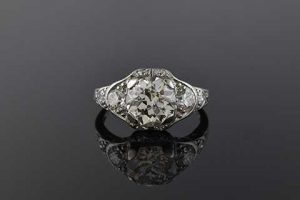 This ring is a prime example.  It's an authentic, original late Art Deco beauty, circa 1935.  Handmade entirely of platinum, it contains an Old European Cut diamond as the center stone.  This weight of the diamond is approximately 1.34 carats.  It is flanked by a matched pair of round diamonds that have a combined weight of .35 carats.  There are an additional six single-cut diamonds that have a total weight of .06 carats.  If you're counting, that's 1.75 carats of total diamond weight.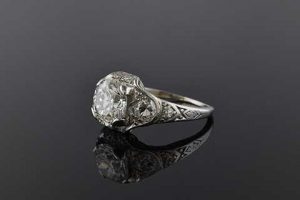 As you can see, the edge of the ring features engraved details.  It has all the earmarks of a highly desirable vintage engagement ring.  Each week, Joe gives me the prices for the pieces in the blog.  This week was no exception.  I anticipated that this little gem would be priced in the $5500 range.  Imagine my surprise when Joe quoted $3250!  I only had one question, "Why?"  And Joe's answer was straight to the point…  "We bought it well."  
For nearly fifty years, we have been doing exactly that, buying well and often.  After all these years, our motto continues to hold true…
"You can go to a museum and look, or come to us and touch."
Written by Carrie Martin
Photos by Dana Jerpe