Joden Girl
Baubles, Bling and a Turquoise Ring
I love tiny treasures.  Miniature marvels.  Dainty darlings.   Although most of the jewelry from the 1800's was large and over-sized to complement the opulent fashion of the time; in stark contrast, those same years were also filled with lovely little jewels.  Whether you prefer rings, pendants or pins, those wee baubles were every bit as lovely and well-made as their sizable counterparts.  
Turquoise, a relatively soft and porous mineral, was one of the most popular gems of the 19th century.  Queen Victoria often opted for the robin's egg blue hued stone.  She wore it regularly herself and gifted it to others even more, including her own bridal party.  Famed for its powers of protection, turquoise was not just beautiful, it was also used as a talisman.  
Usually cut in cabochon styles and polished to a high shine, this original December birthstone is every bit as popular now as it was in the 1800's.  Here, five oval stones in various shades of blue lay across the finger.  These bright gems are nestled between two rows of European cut diamonds.  These eight diamonds have a combined weight of .25 carat.  Shown on my hand, you can truly appreciate how tiny this ring is.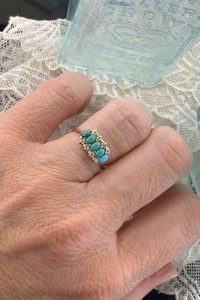 Currently a size 5, it's available on our website for just $825.00.  Made in the 1890's, this ring is an authentic Victorian treasure. 
"You can go to a museum and look or come to us and touch."
Written by Carrie Martin
Photos by Dana Jerpe