Item #4547 Hand Carved Gents Family Crest Ring
4547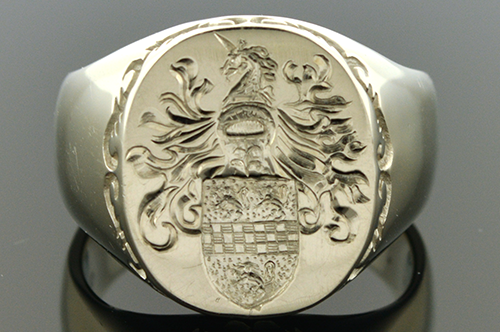 This coat of arms, or family crest ring, was designed in modern times with a carved band in a scroll pattern around the top of the ring. The crest depicts a unicorn with a helmet as the mantle. The hand carved details of the design is incredibly detailed with attention given even to the background of the shield with three lions. Looking behind the crest of the inside of the ring is a lion set with a single round ruby. Made of 18 karat white gold this ring is currently a size 11 and can be sized.
Take a look at the Hand Carved Ladies Family Crest Ring also, item #4546.
The Joden Experience
We Encourage You to Contact Our Experts
Risk Free, Money Back Guaranteed!

(800) 747-7552
We stand behind the value and quality of our items. We feel that your experience with us should be enriching and filled with discovery. We love to educate our customers and we are passionate about the history of our jewelry. We are happy to personally talk to you about any item in our inventory. Your satisfaction with your purchase is guaranteed.
Questions? View our Polices Here
Ask questions about a piece, or call us at (800) 747-7552.