Item #1508 Victorian Handmade Turquoise and Pearl Ring
1508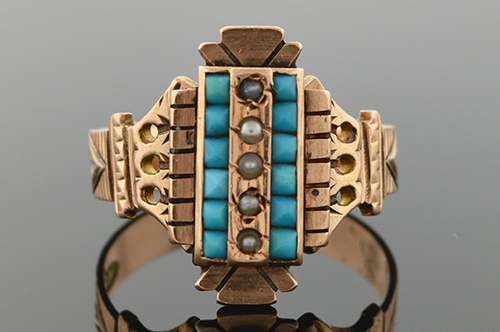 The way this ring was made circa 1890 is impressive. Each Area of this piece was made individually then assembled by hand. The center section holding the turquoise and natural seed pearls was cut, followed by the base in which this section will fit with each line sawed by hand. Even the shank that wraps around the finger was rolled out and carved by hand. Finally all the pieces were expertly assembled and the stones were set. This is a piece you will be proud to own.
The center is set with five natural seed pearls flanked by 12 (six on either side) square cabochon cut turquoise. This remarkable ring is made of 14 karat rose gold and is currently a size 6.75 and can be sized up or down.
The Joden Experience
We Encourage You to Contact Our Experts
Risk Free, Money Back Guaranteed!

(800) 747-7552
We stand behind the value and quality of our items. We feel that your experience with us should be enriching and filled with discovery. We love to educate our customers and we are passionate about the history of our jewelry. We are happy to personally talk to you about any item in our inventory. Your satisfaction with your purchase is guaranteed.
Questions? View our Polices Here
Ask questions about a piece, or call us at (800) 747-7552.