Item #1412 Halo Set Radiant Cut Diamond Pendant
1412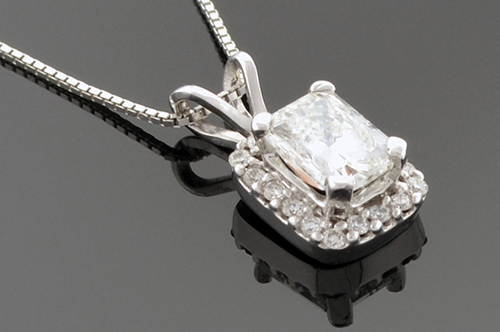 This diamond pendant with a classic halo style fits beautifully into any jewelry wardrobe. The 14 karat white gold pendant holds in the center one radiant cut diamond that has a weight of approximately 0.60 carat with a color grade of J-K and a clarity grade of VS(2)-SI(1). Surrounded by 18 round brilliant cut diamonds that have a weight of approximately 0.15 carat with an average color grade of H-I and an average clarity grade of SI(1-2), the pendant sparkles with fire and brilliance. The pendant is suspended by a 16 inch, 14k white gold box chain.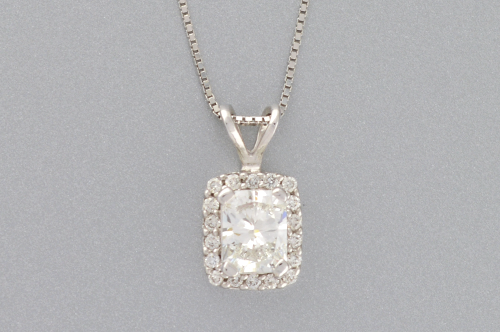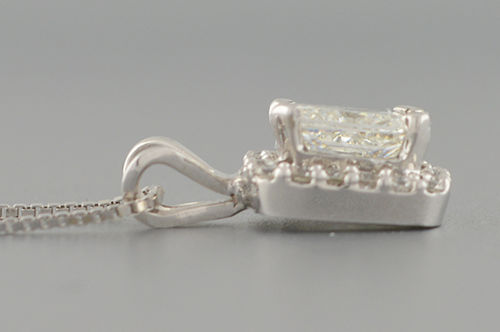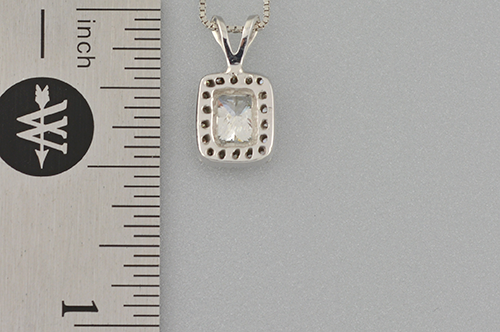 The Joden Experience
We Encourage You to Contact Our Experts
Risk Free, Money Back Guaranteed!

(800) 747-7552
We stand behind the value and quality of our items. We feel that your experience with us should be enriching and filled with discovery. We love to educate our customers and we are passionate about the history of our jewelry. We are happy to personally talk to you about any item in our inventory. Your satisfaction with your purchase is guaranteed.
Questions? View our Polices Here
Ask questions about a piece, or call us at (800) 747-7552.