Item #1046 15 Karat Etruscan Revival Bangle Bracelet
1046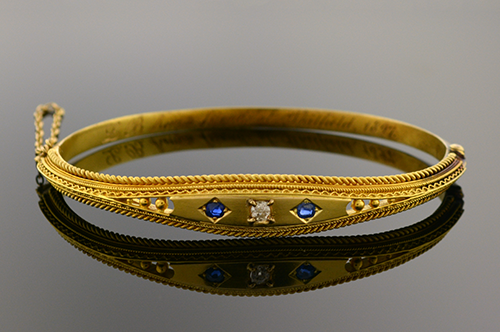 The Etruscan revival period was fueled by ancient discoveries being excavated during this time. The most skilled jewelers of the time were rediscovering a lost art called granulation that gives Etruscan jewelry it's unique style. This precision art uses tiny beads of gold and fine textured wire that had to be soldered in place with primitive tools by today's standards. The inside has an unusual inscription that reads "L.B. from friends at Whitfield 1897" What great friend she must have had!
This hinged bangle bracelet holds one old mine cut diamond in the center that has a weight of approximately .10 carat and two cushion cut sapphires that have a weight of approximately .25 carat total weight. Handmade circa 1885 this bracelet is constructed of 15 karat gold and measures approximately 6.5 inches and is best suited for an average to slightly small wrist.
The Joden Experience
We Encourage You to Contact Our Experts
Risk Free, Money Back Guaranteed!

(800) 747-7552
We stand behind the value and quality of our items. We feel that your experience with us should be enriching and filled with discovery. We love to educate our customers and we are passionate about the history of our jewelry. We are happy to personally talk to you about any item in our inventory. Your satisfaction with your purchase is guaranteed.
Questions? View our Polices Here
Ask questions about a piece, or call us at (800) 747-7552.